Renewable Heating & Cooling
Everything you need to know about cleaner alternatives for heating and cooling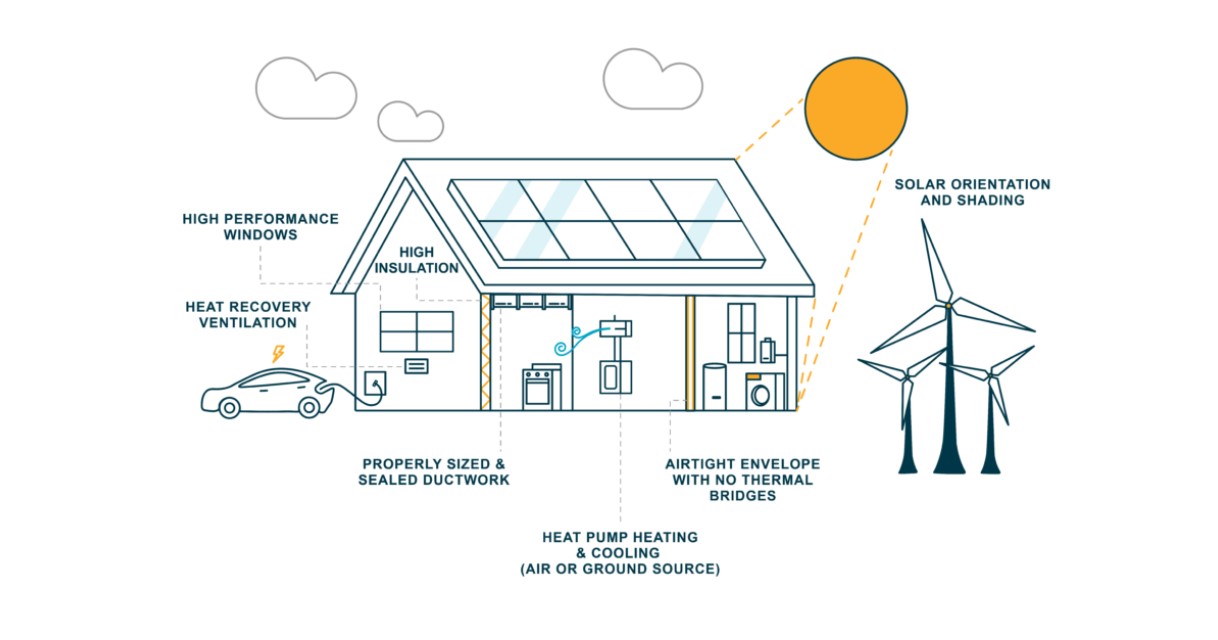 Did you know the appliances and the design of your home can affect its overall health and comfort? The key components to a healthy and comfortable home are: airtight, well-insulated buildings with limited thermal bridges, solar orientation and shading, high-performance windows, heat recovery ventilation, electric heating, and materials choice. Each of these contributes to the overall performance of your home. Owning a high-performance home has many benefits including:
Healthier indoor air quality; no natural gas combustion by-products to breathe
A more comfortable and quieter home
Increased resistance to future wildfires and smoke damage
Fewer maintenance concerns
Energy costs reduced by 10% or more
Reduced contribution to the climate crisis
Click for FAQs and to learn more about 
Air Source Heat Pumps
 and call your EnergySmart advisor today at 
303.544.1000!
Ready to start connecting with contractors?
Click here to access HVAC or Electrification Only contractor lists!
Air Source Heat Pumps
Air source heat pumps transfer heat in and out of buildings to provide heating and cooling in one system. They're not unlike air conditioners that can run in reverse, providing you with heat from the ambient air—even when it's below -10°F outside!
As a renewable heating and cooling technology, heat pumps are high-efficiency all-in-one cooling and heating systems that can help improve the comfort of your home while also reducing your greenhouse gas emissions!
Pricing & Costs
Pricing will vary depending on your home and your needs. Operational costs can compare to or be cheaper than using a gas furnace and air conditioner to heat and cool your home! Check out the table below to see how the operational costs compare! 
Rebates are available for both technologies from Boulder County's EnergySmart Program for all county residents, in addition to special rebates from the City of Boulder for city residents. These rebates are available for a limited time only on a first-come, first-served basis. In addition to EnergySmart rebates, incentives may be available from your utility. Special financing options are also available.
Heat Pump Water Heater
Heat pump technologies can do more than cool and heat your home: heat pump water heaters use draw heat from the ambient air to heat your home's hot water at efficiencies 2 to 3 times greater than standard electric water heaters. High-efficiency heat pump water heaters are also supported by EnergySmart rebates.
Ground Source Heat Pumps
Ground source heat pumps, also known as geothermal heat pumps, operate similarly to an air source heat pump but utilize the relatively constant temperature of the ground rather than the outside air. A ground source heat pump relies on piping buried in the ground either vertically, horizontally, or through an existing groundwater source. These systems can be installed with ductwork or with hydronic distribution systems in a home. The video to the right can provide more information on how a ground source heat pump works. Many ground source heat pumps can often be used to provide domestic hot water when operating through a desuperheater. Desuperheaters transfer excess heat from the heat pump's compressor to a hot water tank.
Induction cooking works by creating a magnetic field between the cooking pan/pot and the magnetic coils beneath the cooking surface. The magnetic field then heats the content of the cooking pot.
In order for cookware to perform on induction cooktops, it must contain iron (cast iron or some types of stainless steel) or have a layer of material with magnetic properties. Some stainless steel cookware does not work with induction – for example, if it is a blend of aluminum and stainless steel, or if the nickel content of the stainless steel is too high. However, some manufacturers of cookware are now putting a layer of magnetic material on the bottom of the pan/pot.
To tell if a pot or pan is compatible with your induction stove, hold a magnet to the bottom. If the magnet clings to the underside, the cookware will work on an induction cooktop. If the magnet grabs the pan softly, you may not have good success with it.
For more information, visit: https://loveelectric.org/cooking/
Portable Induction Cooktop Lending Program
Are you interested in trying induction before your make a decision on a cooktop?
EnergySmart is offering a free, two-week loan of portable induction cooktops for residents to try cooking with induction technology. Please complete this sign-up form to request a cooktop.
EnergySage Heat Pump Marketplace and Solar Marketplace
Boulder County has launched a new program that simplifies the process of adopting clean energy products such as heat pumps and solar panels. Built-in partnership with EnergySage, the program provides residents with the tools and support they need to make informed decisions regarding their energy needs. The Heat Pump Marketplace and Solar Marketplace from EnergySage allow homeowners to easily explore heat pump solutions and solar panel systems, respectively, and get custom quotes from local contractors; all at no cost and with objective, expert guidance provided along the way. Learn more about this exciting announcement here.
Frequently Asked Questions (FAQs)
About Air Source Heat Pumps
About Heat Pump Water Heaters
Heat pump water heaters also use heat pump technology to transfer heat from one place to another. Unlike air source heat pumps, which are used to heat and cool the air in your home, heat pump water heaters extract heat from the air and moves it into a tank to heat water. As a result, heat pump water heaters are 2-3 times more efficient than electric resistance water heaters.
As shown in the diagram below, most heat pump water heaters differ from air source heat pumps in that all of the heat pump elements are indoor and combined with the storage tank. Most heat pump water heaters are "hybrid" heat pump water heaters and include electric resistance heating elements to provide backup heating when hot water demand is high.
Energy savings. If you use an electric resistance tank to heat your water, a heat pump water heater will cut your water heating bill in half or more (and reduce your carbon footprint too!). Depending on your hot water usage, this could amount to $200 in electricity bill savings a year or more!
Dehumidification. While Boulder can be pretty dry, humidity can still be a problem in some basements. A heat pump water heater will greatly reduce (or eliminate) the need to run a dehumidifier in your basement.
Noise. Since the heat pump compressor is located inside your home instead of outdoors, a heat pump water heater will be noisier than a typical water heater—more similar to a window air conditioning unit. Speak with your EnergySmart advisor or contractor if you are sensitive to noise and vibration to learn more about your options.
Cooling effect. Most heat pump water heaters extract heat from indoor air. If placed within a finished space, the heat pump water heater will cool off the room it's in. While installing a heat pump water heater will typically still offer net energy savings, it will increase your space heating bill a bit to compensate—though on the flip side, it will reduce your need for air conditioning in the summer!
Higher upfront cost. Heat pump water heaters are more efficient than traditional water heaters but will cost more upfront than a typical electric water heater. However, their energy savings will pay for the difference in cost–and rebates from EnergySmart will help to offset the added cost as well.
Contact Today!